He had 342 homeruns, 1331 RBIs, and batted 277. Ron Santo's numbers aren't quite as good as…let's say Jim Edmonds. But that's not the argument. The Veterans Committee let him in the Hall. Why did it take so long?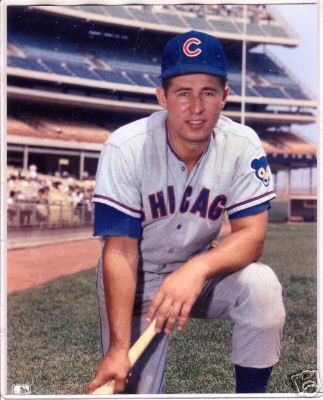 Do you mean to tell me you are going to wait to put this guy in the Hall of Fame until he loses both legs from an awful fight with diabetes, deteriorates in health, and then dies. Now, they put him in the Hall. Ron Santo is the kind of guy that would have thoroughly embraced the ceremony. He lived and breathed baseball his entire life. Santo began playing professionally for the Cubs at the age of 20 in 1960. He did not walk away from the game until he left this planet.
I've often dreaded listening to the Cubs flagship 720 AM station. Santo rarely addressed what was happening on the field. Yet, I'd crack a smile as he yucked it up talking about the fans drinking beers, players spitting seeds, and day baseball at Wrigley Field. Santo was a live person from a still image in baseball time. His voice was recognizable by all and the Chicago faithfuls worshiped him. And now…only now…the man is enshrined in the greatest honor in sports. We can only imagine what his speech would have been like. We can only imagine who he'd have mentioned. I can bet there'd have been too many moments in that address, much like his broadcasts, where I'd be scratching my head wondering what the heck he was talking about.
But we'll never know. The closest he ever got was in 1998 with not even 50% of writers voting in his favor. Shame on the writers for letting it go to the Committee. If he was never going to get in, fine. But to give it to him a year after he passes? The game has lost its' class.